Why Are Microphone Cable Connectors Called "XLR" Connectors?
XLR Connectors, the three pin connectors used on most microphone cables, was originally manufactured by Canon Electric, a US based company founded by James H. Cannon, and was initially known as the "Cannon connector".
The original series of connectors was known as the "Cannon X Series"
Subsequently Cannon added a latching mechanism (the "L" in XLR)
Finally, a rubber insulating material was added around the contacts, adding the "R" designation.
Cannon X series connector with Latching Mechanism with Rubber insulator
The XLR type of connector can have more than 3 pins and is used for many audio and power applications.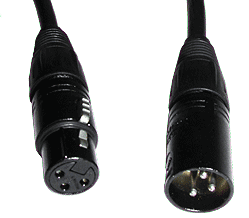 BuyMicCable.com is your source for professional quality microphone cables.
Your satisfaction is always guaranteed.
Harrison Bros. Inc.
GoodBuyGuys.com
Voice 877-863-6150
Fax     800-327-6651
sales@harrisonbros.com